Here are the latest COVID-19 updates, closures and postponements in Central Texas for Friday, Dec. 4.
Editor's note: This blog is no longer being updated. Click here for Saturday's blog.
KVUE is keeping you updated with the latest coronavirus and COVID-19 news in the Austin area.
Scroll down for the top headlines and latest updates in KVUE's Dec. 4 live blog.
Texas: More than 1.2 million cases have been reported in the state, and more than 22,000 people in Texas have died, according to the Texas Department of State Health Services.
Central Texas counties: 

Travis County: At least 39,566 cases have been reported and at least 493 people have died. At least 36,566 people have recovered from the virus.
Hays County: At least 7,644 confirmed cases have been reported and at least 106 people have died. At least 6,753 people have recovered from the virus.
Williamson County: At least 14,012 cases have been reported in the county and at least 169 people have died. At least 12,966 people have recovered from the virus.
GRAPHS: Coronavirus data Dec. 4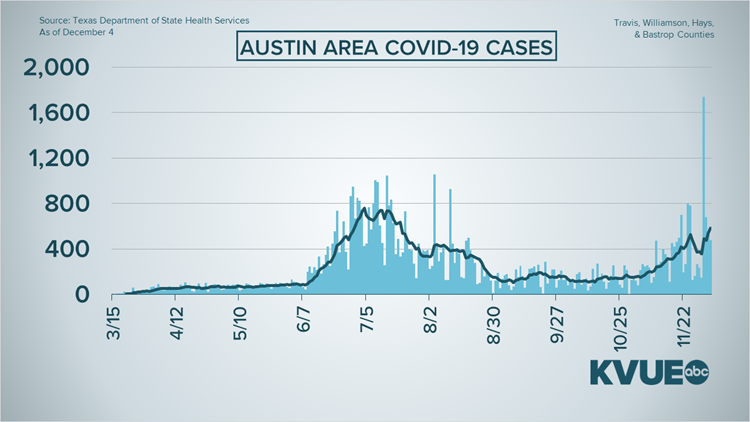 8:17 p.m. – The Williamson County Wilco Forward Phase III grant program, which provides rent and utility assistance to residents impacted by COVID-19 that are in need through December, has an impending deadline. In the Caring Place's effort to adequately process eligible applications before the deadline, the organization will stop accepting applications for assistance utilizing these funds specifically on Friday, Dec. 11. For more information and to learn about other programs, please visit caringplacetx.org/covid19.  
5:55 p.m. – Travis County health leaders report one more death and 299 new cases. A total of 39,566 cases, 36,566 recoveries and 493 deaths have now been reported.
5:45 p.m. – The Department of State Health Services has submitted the first week's allocation of COVID-19 vaccine to the Centers for Disease Control and Prevention. The first week's allocation is 224,250 doses of the Pfizer vaccine to be shipped to 109 hospitals in 34 counties as early as the week of Dec. 14, depending on when the vaccine is authorized for use in the U.S. 
Eight hospitals in Travis County, two in Williamson and one in Hays County have been selected, for a total of 16,575 doses. For a look at the state's distribution, click here.
5:40 p.m. – Williamson County health leaders are now reporting a total of 14,012 cases and 12,966 recoveries. Deaths remained the same at 169.
4:30 p.m. – The Hays County Local Health Department reports one new COVID-related fatality, a Dripping Springs male in his 60s. The Health Department also reports 82 new lab-confirmed cases, eight new hospitalizations, two new hospital discharges and 65 additional people now considered recovered. The total number of individuals considered recovered is 6,753. The total number of lab-confirmed cases is 7,644 with 785 of those considered active.
4:05 p.m. –  According to a joint statement from Ascension Seton, Baylor Scott & White Health and St. David's HealthCare, currently, the 2,473 staffed beds within all three healthcare systems are 75% occupied, and the 483 ICU beds are 87% occupied.
1:30 p.m. – Another staff member at the Giddings State School has tested positive. Since the start of the pandemic, 47 staff members and 89 youth have tested positive. 
12 p.m. – Williamson County announced that it has reached an agreement with Family Hospital Systems LLC to provide COVID-19 vaccination services to first responders when the vaccine arrives.
"Family Emergency Room is pleased to continue our partnership with Williamson County to provide this much-needed vaccine to our first responders. We are proud to play a role in keeping our community healthy, especially those who risk so much for our well-being," said Dr. Henry Higgins, CEO of Family Hospital Systems.
"Providing vaccines to our first responders brings us one step closer to being able to provide a COVID-19 vaccine to all residents. It has been a difficult year that has tested our strength and our resilience, but there is light at the end of the tunnel," said County Judge Bill Gravell.
8:49 a.m. – There are two food distribution events happening this weekend. 
One hosted by the Central Texas Food Bank is happening Saturday from 9 a.m. until noon at Nelson Field near U.S. 290 and Cameron Road.
The Good Shepherd Lutheran Church in Cedar Park is also hosting one from 9 a.m. to 2 p.m. on Saturday and Sunday. It's located on 700 W. Whitestone Blvd. and you must call to make an appointment: 512-258-6227.
6 a.m. – Friday, Dec. 4, is the last day for Austin ISD students and staff members to get free coronavirus tests. The district was offering the tests this week after it switched back to all-virtual learning following Thanksgiving break. 
The district is set to reopen on Monday for in-person learning, regardless of how many positive results the school district receives. To learn more about getting a test, go here. 
 'Christmas star': Jupiter and Saturn align to create the visible bright light in our sky for first time in almost 800 years
Gov. Greg Abbott tells supporters he's considering placing law enforcement for Central Austin under state control
As mayor urged Austin to 'stay home,' he was vacationing in Mexico following daughter's wedding