Day 2 of the "extraordinary session," as it's officially known, gets under way today at 9 at the state Capitol, after a wild opening act.
Eleven bills on pandemic relief are still in the works. Any that didn't make it out of committee Monday — there were a few offered up and dispatched by wishful lawmakers — are effectively dead.
The session is expected to wrap up Wednesday.
Which bills have survived? Check our Bill Tracker here
See all the doings from legislators' first day 
---
3:20 p.m. 
If you're a policy or process wonk, the discussion on House Bill 1006 is a dream come true. Sen. Chris Holbert, R-Parker, said the Committee on Legal Services had an opportunity in October to direct the revisor of statutes to print the previous law (if I'm understanding this correctly) but she refused, and Holbert did not agree with that request anyway. 
Now with the fix contained in HB 1006, Holbert is raising concerns that the Attorney General's office may have a hard time defending the bill as it relates to the governor's call. 
"This is a mistake we made as a legislature that we should have caught," said Sen. Jeff Bridges, D-Greenwood Village. "My concern with fixing it today, we would be replicating the same problems. There might not be lawsuits, but there could be because it's outside the scope of the call. My preference, if we're going to fix, fix it right" and do it in January. Bridges said he would be happy to be a cosponsor. 
The bottom line, however, is that occupational therapists may be operating illegally in Colorado, and if the bill is not passed, that could put the licenses of those therapists in jeopardy. 
Holbert said given the pandemic and the need for those therapists in health care facilities, the argument can be made that it fits under the call.
"I'm not sure if the governor's office is listening, but can he amend the call" to allow for this, he asked, while opining that it's too late for that.
"Isn't there some way to fix this so that people aren't left in legal limbo, trying to help people with COVID? It's the most frustrating situation I've been in as a legislator," Holbert said, with a sigh — or maybe a shriek — of exasperation.
Chair Julie Gonzales, D-Denver, said each member will have to struggle with whether they believe the bill fits under the call, but added that she's concerned about the constitutionality.
"I'd rather do this right and leave no doubt, with complete and full clarity," she said.
Gonzales also said it's issues like this that cause her to call for lawmakers to be full-time legislators. Vice-chair Sen. Chris Hansen, a Denver Democrat, said he agreed with Gonzales' idea of a full-time legislature, based on the problems raised by the bill. 
"To conclude we need to go to a full-time legislature is a bit of stretch," said Republican Sen. Paul Lundeen of Monument. "We create more mischief when we're doing business than when we're not." 
The bill failed on 3-4 vote and was postponed indefinitely on a reverse roll call. 
— Marianne Goodland
3:10 p.m.
Democrats on the House Appropriations Committee rejected an attempt from Rep. Rod Pelton, R-Cheyenne Wells, to divert $3 million for agriculture-related events from Senate Bill 1, which provides direct relief payments to small businesses and arts or entertainment organizations.
"While I respect the efforts to keep the Stock Show and other entities from not going into their reserves, I believe this is not the bill to discuss this," said Rep. Leslie Herod, D-Denver. The National Western Stock Show and Colorado Farm Show were examples events Pelton said could qualify for payments.
Herod added that the Stock Show had reserves to last it through September of next year.
Pelton responded that those events were just guidelines for funding, and not mandated for relief awards. Rep. Dylan Roberts, D-Avon, observed that the amendment seemed to be "picking winners and losers."
The committee advanced the bill to the full House on another party-line vote.
In other business, the Appropriations Committee also advanced the remaining three Senate bills under consideration to the House Committee of the Whole.
— Michael Karlik
2:45 p.m.
"The Woodward rule is in effect," said Senate Finance chair Gonzales, noting two members of the committee (Woodward and Tate) are missing for the vote on House Bill 1006, on premium insurance tax credits. The bill passed on a 5-0 vote, and heads to the Senate consent calendar. 
The next bill — House Bill 1007 — is another that has raised eyebrows in the Senate on whether it applies to the special session call. The bill deals with the occupational therapy practices act. Senate Minority Leader Chris Holbert of Parker, the bill's cosponsor, said the bill is needed because of an error by the General Assembly during the regular session. "They're practicing telehealth" during the pandemic without the authority to do so. "It's on us to fix this."
Holbert also addressed whether the bill falls under the governor's call. "It's not unconstitutional for the sponsors to introduce it," nor whether the presiding officer allows it to go forward or for it to go through a committee. "That question is to you, whether a majority of you agree it fits under the call." If it reaches the governor's desk, it will be up to the governor and his legal counsel to decide whether it fits, and whether to sign or veto it. Because this question exists, and if it becomes law, it could be challenged in court, Holbert said. 
There are occupational therapists providing services through telehealth that isn't legal, he said. "We're asking you to side with me that it falls under the call. Let's fix it today." The call doesn't have to be that precise, Holbert said, citing a Legal Services document that discussed the nexus between a bill and the call, although it was not a legal opinion on House Bill 1006. 
This is the last bill on the finance calendar.
— Marianne Goodland
2:30 p.m. 
Senate Finance has quickly moved on with two more bills from the House: House Bill 1002, on aid to child care providers; and House Bill 1005, which deals with the fees charged to restaurants by food delivery companies.
The first passed on a 6-0 vote (Woodward absent again), but the second squeaked through on a 4-2 bipartisan vote, an indication that it might not pass muster due to some lawmakers seeing it as only tangentially related to the special session call.
That was pointed out by two committee members, Democratic Sens. Dominick Moreno of Commerce City and Jeff Bridges of Greenwood Village. Both said they did not believe the bill followed the call, and that they would be happy to sponsor it when the General Assembly convenes in January.
Moreno also said he did not like that the version that came out of the House creates a temporary policy.
"This should be a permanent policy," Moreno said.
The bill, which would allow local governments to set delivery fees, now heads to the full Senate.
— Marianne Goodland
1:33 p.m.
Senate Finance is moving along a lot faster today than they did yesterday. Now onto House Bill 1004, with three more to follow on today's agenda.
This is the bill that grants restaurants, bars that serve food and food trucks, in counties with severe capacity restrictions the ability to retain the state's 2.9% sales tax, to a maximum of around $2,000 per month, for November 2020 through February 2021. 
"What is 2.9% of nothing?" asked Sen. Rob Woodward, a Loveland Republican, who explained that restaurants cannot collect sales tax if they're not making sales.
Woodward ducked out of the committee hearing shortly after, leading chair Sen. Julie Gonzales, a Denver Democrat, to say she would implement a "Woodward rule": a one-minute notice to return after being notified that the committee is voting. 
The bill passed on a 6-0 vote (Woodward absent) and now heads to Senate Appropriations. The finance committee is now on House Bill 1002, on aid to child care providers.
— Marianne Goodland
1:18 p.m. 
The Senate Finance Committee has adopted an amendment to House Bill 1003, to increase the allocation from $3 million to $5 million. 
"It's imperative we figure out how to address food insecurity needs…This is a number that will better meet the needs of food pantries across the state," said sponsor Sen. Tammy Story, D-Littleton. The bill also gives those food pantries more time to spend grant funds. Several food pantry organizations testified that they are seeing much higher demands for food during the pandemic than they've ever seen before.
The bill passed on a 7-0 vote, and that means that if the bill passes the Senate, it will have to go back to the House for concurrence on the amendment. Its next stop is Senate Appropriations, later today.
— Marianne Goodland
1:05 p.m.
By a vote of 8-1, the House Public Health Care and Human Services Committee passed Senate Bill 2 on to the House Appropriations Committee.
The bill, if passed, would provide rent and mortgage assistance to Coloradans who may have lost jobs because of the pandemic. The lone "no" vote came from Rep. Colin Larson, R-Littleton, who indicated a $5 million fund created in the bill to help those who are ineligible for other forms of pandemic assistance — such as undocumented residents — was the sole reason for his vote.
"I know for my constituents, it's not something they would tolerate," Larson said, speaking about those who "may not be in compliance with the laws of this county."
That concludes the work of the public health committee.
— Michael Karlik
12:58 p.m.
The House Finance Committee passed Senate Bill 1 on a vote of 7-2 Tuesday afternoon, keeping a $57 million package in play.
The bill heads now the House Appropriations Committee on its way to the House floor. The bill, though, was amended in the House committee, meaning it'll have to make a return trip to the Senate before it can make it to the governor's desk.
The bill passed the Senate 31-1 Monday.
The legislation is a crown jewel of Gov. Jared Polis' plan to bail out state businesses while waiting on federal relief, which is jammed up in Congress.
The bill includes:
$37 million in direct relief payments to small businesses in compliance with capacity restrictions

$7.5 million in direct relief payments to arts and culture venues, artists, crew members and organizations

$6.8 million to cover the costs of license fees for retail food establishments

$1.8 million to offset liquor license fees

$4 million to minority-owned businesses

$1.8 million to the Department of Revenue to offset liquor license fees
"We know it's not enough," said Rep. Leslie Herod,  a Democrat from Denver and the bill's sponsor. "… We do need the feds to come in and do their part. These industries cannot die because the virus is so deadly."
— Joey Bunch
12:55 p.m.
Following the return of Rep. Kyle Mullica, D-Northglenn, from an impromptu meeting with House Speaker K.C. Becker, he rescinded his amendment to a Senate bill on rental assistance that would have provided water utility aid.
"I'm with the sponsor of the amendment on the idea but I think we would do it in a better way," said Rep. Kerry Tipper, D-Lakewood, one of the sponsors of the bill.
"It's to keep people in their homes," added Rep. Tony Exum, D-Colorado Springs, the other sponsor. "And folks are more likely to face eviction from lack of rent payment or mortgage payment before lack of utility payment."
Coming to Mullica's defense, Rep. Richard Holtorf, R-Akron, said he believed legislators needed more latitude to bring forth good ideas and represent their constituents without interference.
"It is displeasing me to see this," he remarked. He added leadership should "let up on the rein a little bit." 
Mullica, before taking back his proposed amendment, said that water utility assistance was a legitimate gap for residents during the pandemic. "When they have a bill that keeps accruing and they have no way to pay for it and that bill comes due, that's a lot of stress on them," he said.
— Michael Karlik
12:45 p.m.
Political theater was centerstage in the House Finance Committee on Tuesday afternoon as lawmakers heard from actors and theater operators about the need for financial aid in the face of capacity restrictions.
They might owe royalties to the makers of "The Princess Bride," the 1987 fantasy film.
After some fumbling with lines by other members, Rep. Richard Champion, a Republican and former mayor of Columbine Valley, delivered it accurately.
"Hello. My name is Inigo Montoya. You killed my father. Prepare to die," he said.
"There's a place for you in the theater," replied Barret Harper, a musical theater singer, actor and dancer originally from Denver,  who was testifying in favor of Senate Bill 1 remotely.
At another juncture, Rep. Mike Weissman, a Democrat from Aurora, mentioned the political viability of another Montoya line from the money: "I do not believe that word means what you think it means." He was a little stiff.
Rep. Leslie Herod, a Democrat from Denver and one of the bill's sponsors, thanked all of the "actors" in attendance.
"The casting director will be in touch if you have a role in tonight's seconds," she said, referring to an upcoming  second reading of the bill on the House floor.
— Joey Bunch
12:40 p.m.
Only $10 a month (the cost of internet access for low-income families) could make or break a family, according to Democratic Sen. Jeff Bridges of Greenwood Village.
He was referring to House Bill 1001, on providing internet access to K-12 students, which is being heard at this hour in Senate Finance.
Bridges said he's spent more time working on this bill than the one he's sponsoring (HB 1004, on the sales tax holiday for restaurants and bars).
— Marianne Goodland
12:35 p.m.
An unscheduled recess has halted the House Public Health Care and Human Services Committee for the past 20 minutes. Rep. Kyle Mullica, D-Northglenn, was in the middle of offering an amendment to the Senate bill pertaining to rental assistance when House Speaker K.C. Becker walked in. As soon as Mullica finished explaining his proposal about water utilities, Becker, D-Boulder, summoned him outside and to an adjacent room, where the two could be heard in heated discussion.
The underlying bill would move $54 million to a fund for housing assistance, provide $1 million for eviction legal assistance and $5 million for an emergency assistance fund for those ineligible for other forms of aid, such as undocumented residents.
— Michael Karlik
12:15 p.m.
The Senate Finance Committee first dealt with the two Republican-sponsored measures from Monday that did not see action: Senate Bill 5, which would limit the governor's authority to extend disaster emergency orders without consent of the General Assembly; and Senate Bill 7, which would add procedures for public health orders. Both bills were postponed indefinitely on party-line 4-3 votes.
— Marianne Goodland
12:05 p.m.
The House Public Health Care and Human Services Committee has taken a recess while waiting for an amendment to Senate Bill 2, which would transfer $60 million to housing assistance programs.
One member was heard to complain in jest that Gov. Jared Polis was providing a remote update with Anthony Fauci — "my hero" — while legislators were stuck in a special session.
— Michael Karlik
11:26 a.m.
State Rep. Tom Sullivan talked about the kinds of arts events he's concerned about Tuesday morning as the House Finance Committee debated a $57 million bill for businesses hurt by capacity restrictions.
He asked about those attendees at cultural events who have already bought tickets and the venue has postponed the show indefinitely.
"We've already bought our tickets to Taylor Swift," he offered as an example. "We've bought our tickets to the next Van Gogh show that's going to be, and we've paid for all of those and they've been delayed until 2022."
After he concluded Rep. Matt Gray, D-Broomfield, the committee chair, said of the bill's sponsor, "I know Rep. (Shane) Sandridge is a huge fan of Taylor Swift…."
Rep. Leslie Herod, D-Denver, added she was, truly, a fan of the young singer of heartbreak pop songs, "if she's listening in" to the hearings that are carried over the Internet.
Added Gray, "Oh, I'm sure she's listening in."
— Joey Bunch
10:50 a.m.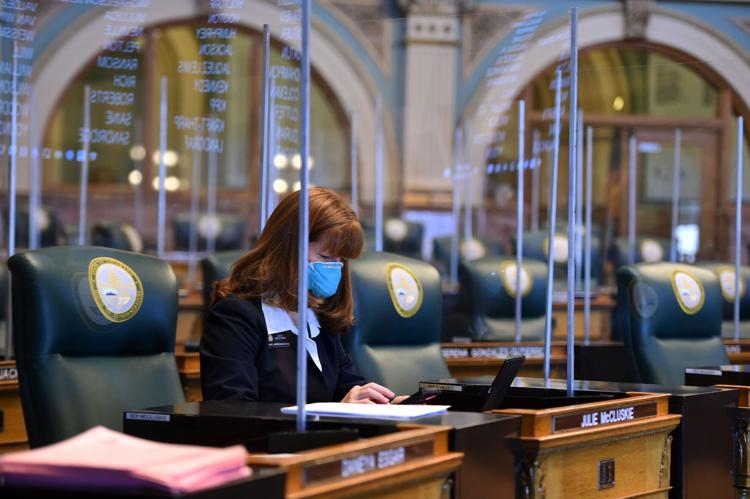 The House Public Health Care and Human Services Committee is hearing Senate Bill 4, which would authorize the state treasurer to transfer $100 million to the Controlled Maintenance Trust Fund, which the governor could then place into the Disaster Emergency Fund.
"We are currently at zero dollars in our Disaster Emergency Fund," said the bill's sponsor, Rep. Julie McCluskie, D-Dillon. Reimbursements from the Federal Emergency Management Agency are not coming in quick enough, and "those delays six to eight weeks out have caused a cash flow problem for the state."
McCluskie, who is the vice chair of the Joint Budget Committee, said the state envisions up to $275 million in expenses per month through June, largely for COVID-19 testing. There are roughly 25,000 tests occurring daily, of which the state pays for 62%.
She added that if federal money comes in, the general fund will be reimbursed. The money is routed through the Controlled Maintenance Trust fund first because it is more visible and transparent, McCluskie testified.
— Michael Karlik
10:30 a.m. 
Taking attendance: In the Senate on Monday, 11 members — eight Democrats and three Republicans — participated remotely. That number grew by one on Tuesday, when Sen. Ray Scott, R-Grand Junction, went back to his district and became part of the remote dozen. 
In the House, 14 lawmakers are participating remotely, including two who are in quarantine: Reps. Meg Froelich, a Democrat from Greenwood Village and Janice Rich, a Grand Junction Republican. 
— Marianne Goodland
9:55 a.m.
Rep. Richard Holtorf, R-Akron, who has voted no on many of the bills in the special session, argued forcefully for finding the occupational therapist bill germane to the purpose of the session.
"The governor has made a call but the governor has not given us explicit guardrails that we cannot bounce off of," Holtorf said. "I would urge us to correct a wrong and make it right today. It would be foolish to kick this can down the road for another 35 days."
The bill would address the fact that the Occupational Therapy Practice Act expired in September. The bill passed by 45-20.
That concludes the floor work for the morning. 
— Michael Karlik
9:50 a.m.
Three Democrats joined Republicans in voting no on HB1005 that would enable counties and municipalities to cap fees that food delivery services charge. Reps. Brianna Titone of Arvada, Chris Kennedy of Lakewood and Alex Valdez of Denver were the Democratic no's.
Multiple members are speaking to whether a bill fixing a defect in the Occupational Therapy Practice Act fits within the governor's call for the extraordinary session. Rep. Mike Weissman, D-Aurora, said that legal guidance suggests the decision about germaneness is a question legislators must consider in their votes.
"This is an individual decision we have to make," agreed Rep. Adrienne Benavidez, D-Denver. "My determination is this is not within the call."
— Michael Karlik
9:41 a.m.
Senate Bill 1 has now passed the Senate on a vote of 31-1 with one member, Senate Majority Leader Steve Fenberg of Boulder, taking a 17(c). That's the rule that lawmakers invoke when they believe they may have a conflict of interest on a bill. 
Fenberg said in citing the rule that he owns a small business in Clear Creek County that is under severe capacity restrictions. The lone "no" vote on the bill was from Sen. Jerry Sonnenberg, R-Sterling. Sonnenberg attempted on Monday to obtain $3 million for the National Western Stock Show, an amendment rejected by Senate Democrats. 
— Marianne Goodland
9:30 a.m.
The Senate passed on a 33-0 vote, with two excused, Senate Bill 2, which directs $50 million to the Division of Housing at the Department of Local Affairs for rent and mortgage assistance to those impacted by the pandemic. The Senate is now engaged in final debate on Senate Bill 1, the small business relief package. 
"This is too little, too late," said Sen. Bob Gardner, a Colorado Springs Republican, although he also said he would vote for the bill. 
— Marianne Goodland
9:25 a.m.
The House passed by 64-1 HB1006 to modify procedures for insurance premium taxes, and by 51-14 HB1001 to provide Internet access grants to schoolchildren and educators. All no votes came from Republicans.
A spokesperson for the House Democrats indicated that on both Monday and Tuesday, 14 members attended remotely.
— Michael Karlik
9:20 a.m.
By a vote of 64-1, the House passed House Bill 1004 allowing restaurants and bars to retain sales tax revenue on their net sales up to $70,000. Rep. Richard Holtorf, R-Washington County, was the only no vote.
During Monday's debate, GOP lawmakers tried to raise the sales threshold to as high as $500,000. Before the final vote on Tuesday morning, Rep. Rod Bockenfeld, R-Watkins, renewed the request, telling members "call your senators and ask them to work hard to find some additional money to increase the deduction."
Rep. Colin Larson, R-Littleton, implored his colleagues to "please do not let the perfect be the enemy of the good. This will save lives, save livelihoods and save jobs."
Also on a vote of 54-11, with all no votes coming from Republicans, the House passed HB1002, a $45 million infusion for childcare operators.
— Michael Karlik
9:16 a.m.
The Colorado General Assembly is making the pledge of allegiance a bipartisan thing.
Rep. Mark Baisley, a Republican from Roxborough Park, did the honors Tuesday, as the follow-up to Rep. James Coleman, a Democrat from Denver, on Monday, the first day of the special session so Wednesday will break the tie. Democrats are in charge of both chambers.
In the Senate Tuesday, the chamber's leadership gave the honor to Sen. Rhonda Fields, a Democrat from Aurora. Monday, Senate Republican leader Chris Holbert of Parker led the pledge.
— Joey Bunch
9:15 a.m.
The House of Representatives has seven bills scheduled for third reading and final passage this morning. The first, House Bill 1003, which would provide $3 million for food pantries, passed 63-1, with Rep. Lois Landraf, R-Colorado Springs, excused. Rep. Lori Saine, R-Firestone, was the only no vote.
Roughly a dozen representatives are participating remotely.
— Michael Karlik
8:25 a.m.
While lawmakers in Denver are divvying up $280 million in surplus state money to bail out Colorado small businesses and struggling Coloradans, efforts at a stimulus kindle anew in the nation's capital.
The Washington Post reports a bipartisan group of senators will unveil a $908 billion proposal Tuesday.
That would break an impasse that is one of the reasons Colorado Gov. Jared Polis called the special session, as Democratic leaders repeatedly chastised the dawdling of D.C. during the first day of the session Monday.
Talks between the White House, Democrats and Senate Republican leader Mitch McConnell have broken down repeatedly since the House passed a $3 trillion stimulus last Monday.
The proposed federal plan is expected to include  $240 billion for state and local governments and $300 a week in federal unemployment benefits (down from $600 per week sought by Democrats) for four more months.
Colorado's U.S. senators, Michal Bennet and Cory Gardner, are not named by the Post as players in the new detente. The list includes Democratic Sens. Joe Manchin of West Virginia; Jeanne Shaheen and Maggie Hassan, both of New Hampshire; Mark R. Warner of Virginia; Sen. Dick Durbin of Illinois; plus Angus King, an independent from Maine who caucuses with Democrats. The Post cites the work of  Republican Sens. Mitt Romney of Utah, Susan Collins of Maine, Lisa Murkowski of Alaska and Bill Cassidy of Louisiana.
— Joey Bunch
8 a.m. 
As of daybreak, the House has three committees that will meet to review bills after lawmakers immediately after they adjourn their large indoor gathering in the man chambers: Finance; Public Health Care and Human Services and State, Veterans; and Military Affairs.
In the Senate, only the Finance Committee is expected to meet after adjournment, but it's a fluid situation, so those who have a vested interest should keep their eye on this blog, updated continuously throughout the day.
To watch discussion on the House and Senate floor, click here. 
There's audio from the respective committees, by clicking here.
— Joey Bunch